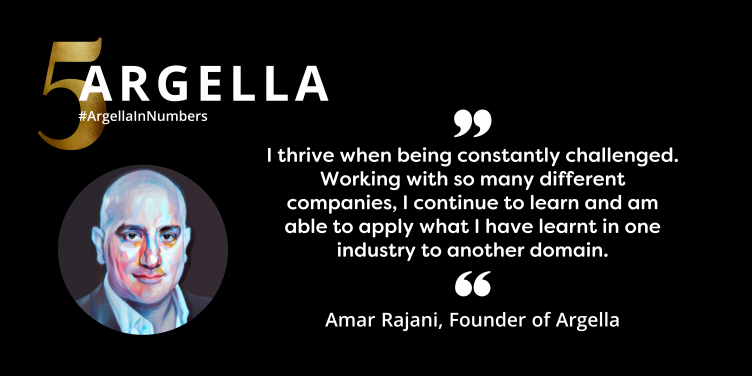 In a nutshell: To recognise our fifth birthday this year, we spoke to our Founder, Amar Rajani, to reflect on his experiences as an entrepreneur, and uncover his motives for building Argella.
Working to help entrepreneurs realise their ideas, and companies to scale and transform digitally, Argella has come an incredibly long way since it was founded back in 2017. As we enter our fifth anniversary year, it's exciting to think of what the future holds for Argella, and how we can look to support many more companies of all shapes and sizes in years to come.
Argella: What's your background – how did you become a founder?
Amar Rajani: I enjoyed the entrepreneurial nature when I first worked at a well known fintech firm, and found that as companies grow, it is hard to maintain this sense of entrepreneurial spirit.
I started Argella as a way to help both founders and companies that were in need of help to scale, or navigate digital transformation. I started focusing on what I knew, using my knowledge of research and capital markets to advise financial sector firms. This broadened to other industries and companies, including other technology companies that connect businesses with their customers, manage online digital reputation and risk, and digital financial planning.
Once making the decision to onboard a new client, I stand firm on investing and believing in a company's growth when I work with them for the long term. That's why Argella is a stakeholder in over half of the companies we work with. Entrepreneurs often come to me with a wealth of innovative ideas, and the potential to build a great product, and I take pride in doing all I can to take their company to the next level.
Argella: What makes you tick as an entrepreneur?
Amar: I thrive when being constantly challenged. Working with so many different companies, I continue to learn and am able to apply what I have learnt in one industry to another domain.
Argella: What do you worry about?
Amar: I don't worry about things. In my opinion, worrying doesn't solve anything, it is something that just happens in your head. How often has worry actually ended up making you feel better? When I ask my clients this, the answer is usually "never."
Argella: What advice would you give new and aspiring entrepreneurs?
Amar: Validate your idea first. Make sure that not only someone likes your idea, but that there is a commercial value behind it. Often entrepreneurs can have great ideas and the capability to build a great product, but can forget the cost of acquisition and the commercial strategy needed to take this to the next level and scale.
Argella: Tell us something most people don't know about you
Amar: Many people may not know this, but I can play a game of chess without a board, simply memorising the moves and pieces in my head.
To find out more about how Argella advises and advances growing tech businesses, visit www.argella.co.uk.
Back to News