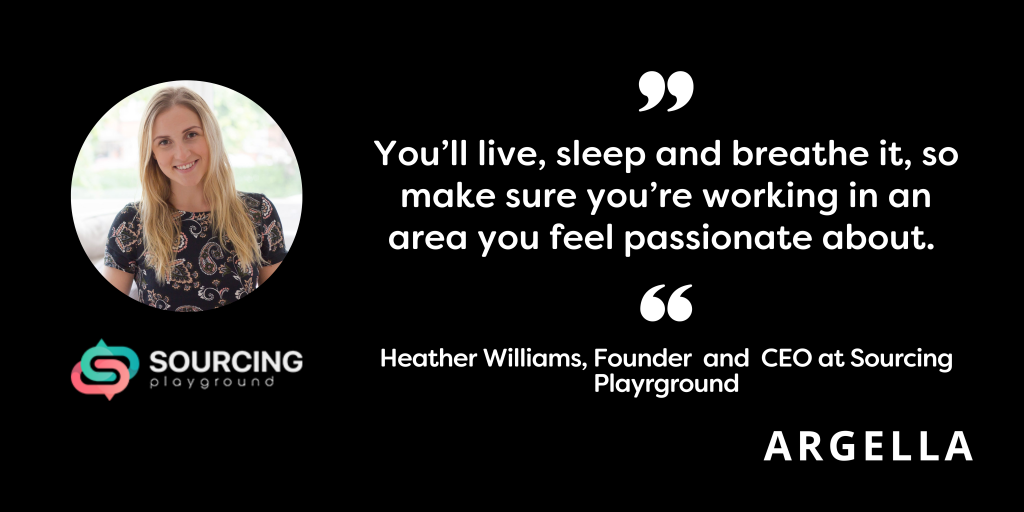 In a nutshell: Heather Williams founded Sourcing Playground in 2017, which provides powerful, 'on the ground' sourcing and ESG supply chain intelligence.
The company has created a software-as-a-service platform, which enables businesses to increase transparency, digitise their supply chain and sourcing operations and improve environmental and social impact.
Argella: What's your background – how did you become a founder?
Heather Williams: I studied fashion at University, and then went on to work in the world of sourcing .
For 4 years I worked sourcing and developing products for the UK's largest consumer electronics and mobile phone accessories distributor. I've sourced products for John Lewis, Sainsbury's, and Carphone Warehouse working with suppliers and factories in the Far East. I experienced first hand the challenges of sourcing stock from the right places.
I've always loved tech and always wanted to grow my own business, so I saved for six months, quit my job and gave myself six months to turn the idea into a reality. Happily, I found an investor in that time and got everything off the ground.
Sourcing Playground is the perfect combination of my professional passions – fashion, technology and sourcing. The fashion industry is in the spotlight over sourcing issues more than most, so it's helped that I understand how that world works.
Argella: What makes you tick as an entrepreneur?
Heather: I love the feeling of moving forward with a business. I get bored easily but when you're running your own business, your job basically changes all the time, you have to constantly adapt and pivot your ideas.
I like to think of it as a Mario game – week one is like level one – you have a certain set of challenges you learn to overcome, but by the time you're on level two there's a whole new set of problems to beat. Also, there's always a boss at the end of every level to test you even further!
Argella: What do you worry about?
Heather: It's important to be honest about what you don't enjoy, and speaking honestly, reporting and finance are not my biggest strengths. I've had to learn how to do it but I don't love it. That's where, as an entrepreneur, you need to find co-founders or team members who can help fill those gaps.
Argella: What advice would you give new and aspiring entrepreneurs?
Heather: Know that you don't know everything – that's a strength!
For the things you don't know – find mentors, coaches and advisors who are going to give you time and advice. We've been really lucky with some incredible advice from people that has helped to grow our business.
Also, you need to really love the subject matter you're dealing with. You'll live, sleep and breathe it, so make sure you're working in an area you feel passionate about.
When we enjoy something, most of us work better at it, and ultimately, what's the point if you're not enjoying yourself?
Argella: How have you found working with Amar and Argella so far?
Heather: Amar has loads of experience that has been really helpful. He knows a lot about tech companies generally and has given us some great advice when it comes to developing a product for a new market segment, and has made some brilliant introductions to his extensive network.
To find out more about how Argella advises and advances growing tech businesses, visit www.argella.co.uk. For more information on Sourcing Playground, visit www.sourcingplayground.com.
Back to News