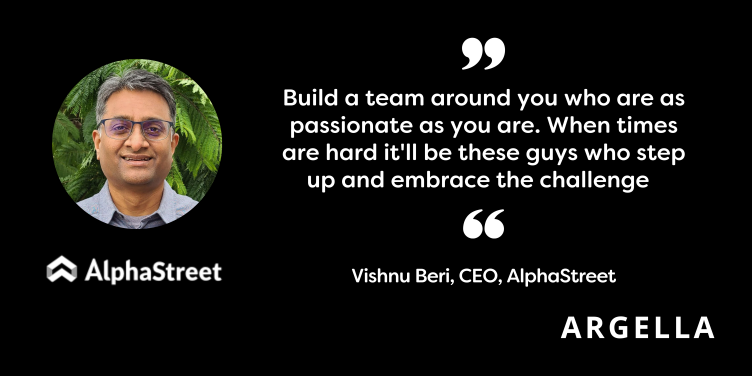 Argella: Can you explain AlphaStreet in a nutshell?
Vishnu Beri: We're a six year old startup – for the first half of our life we created a financial social media platform focussed on retail investors. We then pivoted to become a data and research platform for institutional investors to provide data and insights, which in turn helped us to see an opportunity to disrupt the market for financial information.
The market is dominated by a handful of major players, and while their clients seemed to like the information they receive, they didn't like the restrictions placed on them by the market leaders around how data could be used and shared, and how much it cost. So we have entered the market with a new approach to financial data – giving users what they need, when they need it at a reasonable price.
Argella: What makes you tick as an entrepreneur?
Vishnu: I find solving problems very motivating. I like to take a business problem, even if there's an existing solution, and see if we can solve it more effectively, more quickly, more economically. When a client comes back and says "wow, it's a pleasure to work with you guys, you can really solve this," – that's the boost I need and the validation for what we've been doing.
Argella: What do you worry about?
Vishnu: The fact that most of our solutions are a critical path for our clients – they use our data to make really important investments and other crucial business decisions. If any of our products and solutions had issues that would impact those decisions, that would keep me awake at night. At the first sign of any technical problems it's always all hands on deck to ensure clients are getting what they've asked for.
Argella: As a successful entrepreneur, what advice would you give new and potential founders?
Vishnu: Definitely always work on things that genuinely excite you. Running a business is hard work and you'll be so much more successful if you're excited about what you're doing.
Equally as important is to build a team around you who are as passionate as you are – whether that's co-founders, advisors, employees – you need people who are in it for more than just the money. All businesses have their ups and downs, and when times are hard it'll be these guys who step up and embrace the challenge.
Argella: Finally, how have you found working with Amar and Argella?
Vishnu: Given the nature of our business, Amar's extensive experience across finance, data and client services has been a huge asset. To have his expertise on the market itself, as well as the clients who use these services, has come in handy for us. Working with Amar as an advisor has been really helpful – he's very easy to talk to and we have some wide-ranging discussions about the business. Amar is always happy to help and ready to talk to his network about us. Of all the advisors I've worked with, Amar is the most consistent – I've seen other advisors' interest wax and wane over time but that's never the case with Amar.
To find out more about how Argella advises and advances growing tech businesses, visit www.argella.co.uk. For more information on AlphaStreet's products and services visit www.alphastreet.com.
Back to News