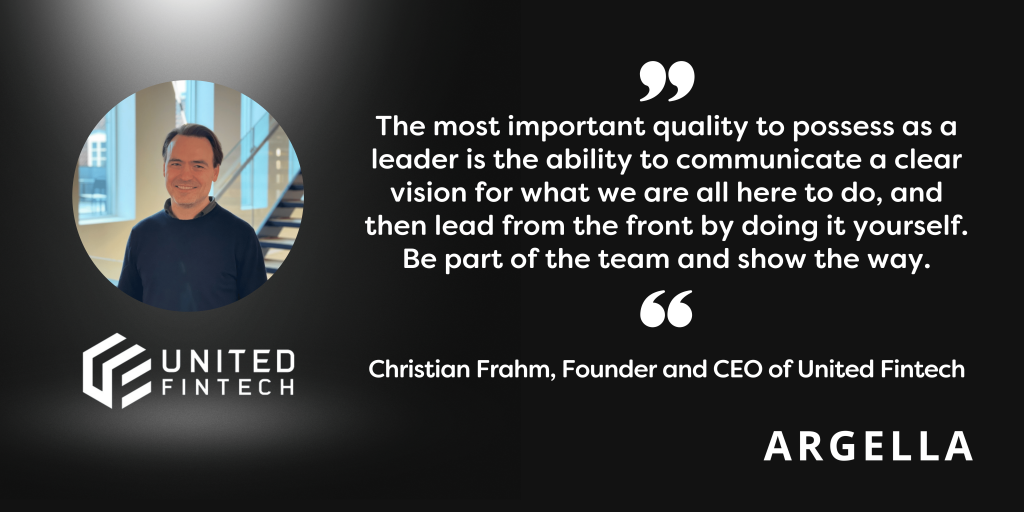 In a nutshell: United Fintech is the industry platform for capital markets products, helping financial institutions transition to a digital world by reducing cost, driving automation and delivering efficiency within capital markets.
Amar: Whilst our paths briefly crossed almost twenty years ago, Christian successfully sold his trading business to Playtech. Recognising the challenges in the fintech ecosystem, United Fintech is positioned to help acquire and scale innovative fintech companies in the capital markets space.
Amar: Can you tell us about your background and how you became a founder?
Christian: I always wanted to become an entrepreneur. My dad was the third generation of a large coffee business which the family eventually sold and invested heavily in real estate, and within a few years lost everything. Even at the lowest point, deep in me I always wanted to create and build something special.
Amar: What do you most enjoy about being an entrepreneur?
Christian: Going from initial idea and vision to collect a world-class team to service customers, helping solve real and difficult problems and getting all the pieces to become bigger than the parts is truly rewarding. The ups and downs of entrepreneurial life are part of the journey and something I look back on with joy, but I find myself forgetting how tough and mentally exhausting it is to start something from nothing.
Amar: What keeps you motivated?
Christian: I have a profound desire and feeling of obligation to do something meaningful with my life. To help other people, help an industry become better, and in my case, help banks and financial institutions survive and remain relevant in a constantly changing financial services industry. Banking and finance will change more in the next ten years than it has in the past hundred years. I feel truly lucky to be here at this point in history with the ability to contribute and eventually pass on knowledge, wealth and a better world to generations to come.
Amar: What do you worry about when it comes to work?
Christian: I focus on solving problems every day. Problems are a sign of life and the result of trying to solve difficult problems. My main worry is getting my priorities right. Focusing on the right problems in the right order will make all the difference.
Amar: What's your biggest business learning?
Christian: There is never (rarely) a silver bullet to success. Success comes from a lot of constant failings and improvements, and a lot of small victories over an extended period of time. Sometimes it can feel like the ship is at a standstill, but as long as you keep improving in a lot of small steps your speed and momentum build up and you are flying. I highly recommend reading Atomic Habits… a great book that I read after my exit in 2019. Without knowing it, Atomic Habits was a big part of how we worked.
Amar: What advice would you give new and aspiring entrepreneurs?
Christian: Do you have a bigger purpose for why you want to start a business? Do you have a problem you really want to solve, something you want to make right in the world? The motivation has to be something bigger than just money and a quick exit. There will be a lot of dark moments during your journey and having the right guiding star will make all the difference when you decide whether to throw in the towel, or you have the guts to persevere and continue to fight.
Amar: Anything else to add when it comes to your experiences as a founder?
Christian: Outside of focusing on the bigger vision, getting great people around you and giving them ownership to become part of the journey is important.
Amar: Tell us something most people don't know about you…
Christian: I think a lot about giving back and the bigger purpose in life. This has led to me practising meditation daily and I feel I'm still early in my inner journey.
Amar: Who has inspired you through your journey and why?
Christian: As a kid, I was constantly reading books about entrepreneurs. Then it became audiobooks and in recent years, I have been blown away by the amount of knowledge and inspiration you can find on YouTube. I don't have a single person, but love Steve Jobs, Elon Musk… anyone with a real passion and dedication to becoming great at what they do and using that passion to the best of their abilities.
Amar: What is the most important quality to possess as a leader?
Christian: The ability to communicate a clear vision for what we are all here to do, and then lead from the front by doing it yourself. Be part of the team and show the way.
Amar: What would your dream job be if time, resources and location were no barrier?
Christian: United Fintech is my dream job. Getting a world-class team together, helping world-class founders of fintech businesses scale their dreams, and eventually helping an industry digitize.
Amar: Have there been any positives to come out of the upheaval of the last two years for you or your business?
Christian: Covid was a difficult time to start a business. Especially a B2B business selling products to large global banks. I loved the introduction of video calls into big banks, helping cut down on the need for travelling.
Amar: Who would play you in a film of your life?
Christian: I don't know, my journey has just begun so ask me again in fifty years…
For more information on United Fintech, visit unitedfintech.com. If you'd like your company to feature in the Argella Spotlight Series or find out more about how Argella advises and advances growing tech businesses, get in touch at info@argella.co.uk.
Back to News