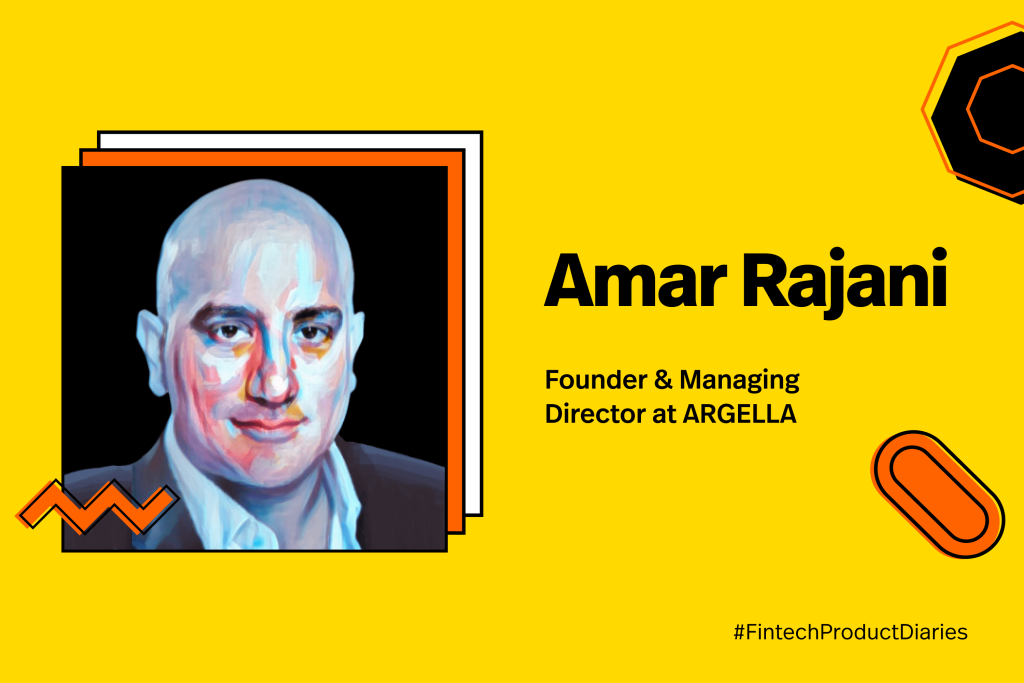 In our "Fintech Product Diaries" interview series, we'll meet you with some of the most experienced and inspiring product and UX professionals in the fintech sector and their unique product stories and lessons learned.
In this edition of #FintechProductDiaries, we chatted with Amar Rajani, Founder & MD of the UK-based growth consultancy, Argella.
A veteran in corporate banking and product management, Amar has more than 20 years of experience with leading global financial brands like Citi and Bloomberg. Over the past 5 years, he's been instrumental in successfully positioning and scaling multiple fintech products across the UK and US. What's needed to build an effective fintech product? And what's the key to building a truly product-led fintech organisation? Find the answers to these questions and more in Amar's complete interview below.
What's needed to build an effective fintech product organisation?
A successful product organisation has to start with the right people building product that has a customer-centric focus, understanding what problems you are solving and why customers will buy your product.
They also have to adopt an agile, iterative process with all key stakeholders from management, product teams, designers, developers, sales and customers at the right stage of each product lifecycle and journey to ensure the product has every opportunity to succeed. Ensuring that you have the right talent for the role and product you are building can significantly improve the overall product, cost to produce, time to market and ultimately sell.
Product is typically your biggest cost for a start-up fintech as you need to design, build and validate your product before acquiring your first customers. If you get this wrong, you are likely to overspend on the build, time to market and cost of sales — typically with a much longer sales cycle.
The key to building a truly product-led fintech organisation is to ensure that you listen to your customers and bring sales into your process. I have seen too many product managers build great products, that no one wants to buy and salespeople don't want to sell. A good product-led organisation understands that you can't succeed on just a great product, but having the right organisational structure and processes to ensure that you can sell what you produce.
If you were to launch a fintech product from scratch, where would you start? And what would be your initial budgeting and funding approach?
It is important to understand the challenges and problems that your product solves, the value placed by clients on these solutions and an understanding of what else is currently in the market and how you differentiate.
I would then work out the cost to build the product, with initial pro-type MVP to one that can be shipped and sold to clients, along with the various stages and costs to build, factoring into account any associated costs to scale for clients along the way.
I always include the fully loaded cost to build and sell a product, along with all associated expenses. With all of this in mind, understanding your market opportunity, pricing strategy and time to market, and setting realistic targets can help understand what you will need to fund the product — either through current company funds, additional investment, and the potential when this can be funded through product revenues.
What do you believe the key challenges in fintech product development and management are? And how would you tackle them?
Spending time speaking to clients to ensure the correct product-to-market fit. Even with a good product fit, you must ensure you have the right commercial fit and a suitable pricing strategy that supports the sales process and customer acquisition. It is important to ensure that your product has a clear path to adoption with the client and that the pricing structure can accommodate your target segment as well as provide opportunities for growth.
Overbuilding a product and trying to do too much too soon is the biggest issue that I see. You must be confident that your product, service, and process can handle where you are today and where you expect to be.
You don't need to build your whole product roadmap before acquiring clients and it is always best to test and start small. It's at this stage where product management and sales lifecycle are often overlooked, despite it being the most critical part of the process.
What will the future look like for fintech?
I still expect significant growth in this market over the next twelve months, despite challenging macroeconomic conditions. There is already a reality check with investors when they put money into these firms expecting to see more from either product development or sales before investing.
The firms that will succeed are those that are solving a real problem with a product that can scale up and be commercially viable. Many of the fintech solutions out there today are now beginning to realise they need to collaborate and find partners in order to build out their ecosystem.

This article first appeared in Pixels & Sense, reproduced with permission.
Back to News