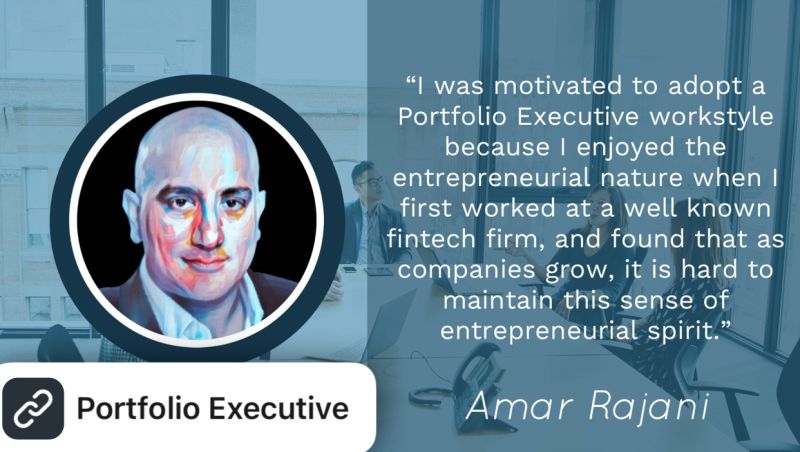 Specialism: I manage every aspect of the product and business sales process including new business development, turnaround of under-performing businesses and new product generation.

Track Record: Citi (Corporate Banker); Bloomberg (product management, business development, strategy and innovation) and Argella (advisory support).

Offer: Advisory support and expertise to businesses of all sizes – from helping start-ups to scale, to supporting digital and data-led transformation. I have a strong record in successfully growing tech businesses and positioning products for businesses across sectors, including SaaS, fintech, financial services and data-driven businesses. I'm well known as a technology specialist with expertise in capital markets, investment management, corporations and research.

Amar says: "I advise and advance inspiring businesses."

I was motivated to adopt a Portfolio Executive workstyle because I enjoyed the entrepreneurial nature when I first worked at a well known fintech firm, and found that as companies grow, it is hard to maintain this sense of entrepreneurial spirit.
I started Argella as a way to help both founders and companies that were in need of help to scale, or navigate digital transformation.
I began by focusing on what I knew, using my knowledge of research and capital markets to advise financial sector firms. This broadened to other industries and companies, including other technology companies that connect businesses with their customers, manage online digital reputation and risk, and digital financial planning.
Once making the decision to onboard a new client, I stand firm on investing and believing in a company's growth when I work with them for the long term. That's why Argella is a stakeholder in over half of the companies we work with. Entrepreneurs often come to me with a wealth of innovative ideas, and the potential to build a great product, and I take pride in doing all I can to take their company to the next level.
When I decided to start on my own, it was a testament to the value of my experience (and a relief) that I was able to secure my first two clients in the space of a couple of months. One was through an introduction at network drinks and another from a cold email I made to a business where I felt my experience would add value. I have never looked back since.
Along the way I have discovered that I thrive when being constantly challenged. Working with so many different companies, I continue to learn and am able to apply what I have learnt in one industry to another domain.
I typically work with companies that are doing something new or going through a transformation or change. Being agile with the companies that I work with is both impactful and rewarding. I enjoy what I do and working with people that are passionate about their business.
As a Portfolio Executive, when I work with clients, they want me and they get me. Consultancies will typically have a senior partner lead a pitch and then have associates carry out most of the work for their client, whilst they act in a supervisory capacity. This is probably the biggest challenge I have faced so far in order to have a sustainable and scaleable business. As a result, taking on additional resources to support non-client-relate work is the first step in solving this.
This article first appeared in The Portfolio Executives, reproduced with permission.
Back to News